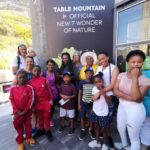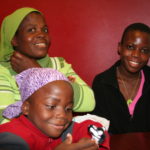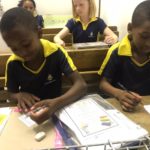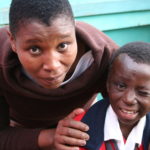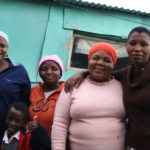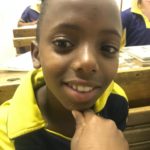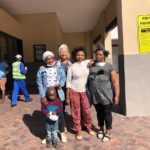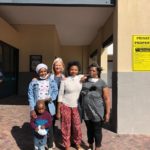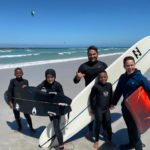 The sponsorship program: 
As a family therapist, Sylke naturally takes, not only children under her (and UBUNTU for Africa's) wing, but the whole family: we are because I am and I am because we are.
With the volunteers and our team, we work at the township school without the regular support measures. UBUNTU for Africa brings  funding to this government school with their projects. This is not enough by a long shot. So often we see children (little uncut diamonds) who could go so much further with more support, motivation and stimulation, e.g. at the semi-private Kronendal Primary School. For these children and their single mothers/fathers we are looking for sponsors.
For 25 Euro per month (there are no upper limits) you and other donors give a child from our Hout Bay Primary School a unique chance at a good educational foundation and ideal support.
Our family program is open to single mothers and or fathers. The prerequisite is that the mothers/fathers have a permanent job. The goal is to work out a future perspective with them and the children, independent from us as an organisation. We help the mothers/fathers with training and other support. All participants, and their children, have access to individual therapy (Sylke Funk, family therapist, Siphosethu Tyekana, life coach, and Steffi Stockton, psychologist). This is a free service offered to them. This is a safe space where mothers/fathers can confidentially talk about matters of the heart, daily challenges such as parenting issues and trauma.
Additionally, participants in this program meet regularly in a support group led and facilitated by Steffi Stockton.
We currently support 4 single mothers with a total of 8 children.
---
B with 3 children, 2 of them go to a Model C Governmentschool, a government "rainbow school" supported with school fees from the wealthier parents. In addition to the school fees, the parents organize their own sponsorship campaigns and are also very active. www.kronendalprimary.co.za The classes are smaller than at conventional government schools, there is an excellent sports program, special education support and much more. The charm but also the challenge of this school is that children of all colours and cultures are welcome here. At this school there is a wide range of children in one class. One doesn't know if she can get something to eat in the evening, might be sitting next to a girl who owns her own pony. This creates conflict and opportunity in equal measure. Sylke worked at this school for 10 years as a family therapist. The school's colour palette does not quite reflect the South African cross-section, but at least it tries. 
With our help and support over the years, B finances herself and her children almost independently. In the meantime, the family no longer lives in the township. B quits her job in January and will work for us.
---
K and baby O have been with us for a little over a year. K is still very young. She studies through UNISA (online university) in her first year and works part-time in our After Care. Next year she hopes to trasnsfer to a different department with her studies as her prefered degree is teaching. Rotary, Hout Bay, is supporting her with a scholarship. O is going to a private preschool. This way K has her hands free and can work on a better life for herself and her daughter. O develops splendidly and quickly learns English along the way. In a government or township creche, Isixhosa would be spoken to her. At First Friends she is being prepared for a "better" school and this is what K wants for her daughter with all her heart. Unfortunately the sponsor for O's Preschool has dropped out and we are urgently looking for a new sponsor(s). 5 donors for 50 Euro each can ensure that 2 year old O can stay at First Friends.
---
A and 3 children A has been working in our After Care for three years. During COVID she helped Sylke, distribute the food parcels fairly. She has since become our After Care Manager and we are funding her to continue her education. The training is HER thing, ME-TIME and the exchange with professional colleagues from other areas and from other parts of the Western Cape make her feel good. The course is very inspiring for her and she also already has plans for a morning job: she wants to start a baby nursery in our new After Care home. Good idea. Let's see how this can be realized.                                                                      
It is a challenge to balance motherhood, education and work. After the death of her sisters and mother, A took in her sisters' two children in addition to her son. The three children are between 9 and 12 years old. She lost her house in the township in a big fire in 2016. She was given a 2×3 meter corrugated iron hut in an unsafe area by the City of Cape Town as compensation. After she took in her sister's two children, the already small hut definitely became too small. When she cooked, all three children had to sit on the bed. We found a house in a good neighborhood where she could rent 2 rooms. A shares the eat-in kitchen with the daughter and the boys share the other room. There is a toilet in the house, which many houses in Imizamo Yethu do not have. The residents then have to walk far to a community toilet. We found a sponsor for the rent.
A urgently needs a bunk bed for the boys, which cost 80 euros. Also their sponsorship was cancelled. 5 donors of 25 euros each can ensure that A and the children can continue to live in a safe place.
---
N and her daughter V, age 6, have been in our program for 2.5 years. V is doing well and enjoying her time at Valley Pre-Primary School, a private preschool. The teacher is very pleased with V's progress.                                    
N works in a nail salon. It is not always easy for her to be a mother and at the same time be burdened with flexible work hours. With our therapeutic work we accompany N's roller coaster ride through life in the township. This sometimes gets to her, but we always make a plan. She has limited support from her family: but she has us, who keep her on track with love and boundaries, "tough love".