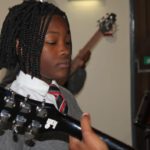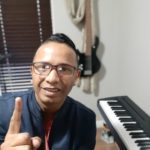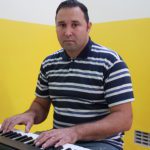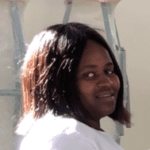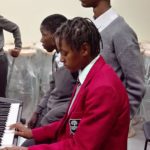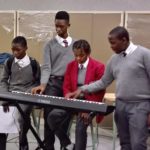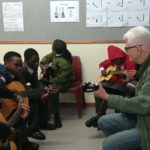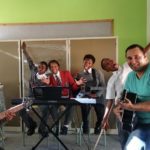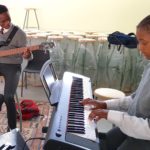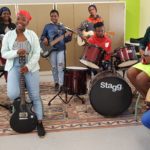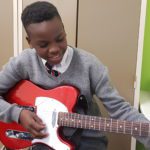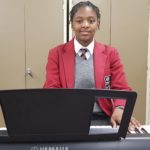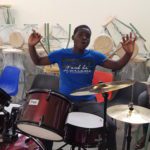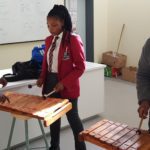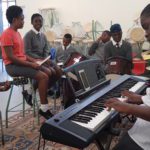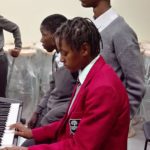 There are so many reasons why young people "get off track": refusal to go to school, experience in prison, loss of parents or disasters like the big fire of 2017, when the kids believe that from now on nothing works and lose their hope.
But if you walk through the townships with open eyes and ears, you cannot avoid the following impressions: As poor as the kids may be and miserable as they are, there is rapping or singing, dancing or playing music at every corner of the township. It quickly becomes clear: music connects, music consoles, music makes sense, music fills the day, music shows talent, music is fun, music motivates, music  has so many different directions, music is never wrong or right, music does not judge. It is a real elixir of life for the township kids.
And because African movements and sounds are really something special, the idea of ​​a project was born quickly: UBUNTU music. And this is how it works: Every day from 1pm to 5pm, young people meet in our music and sound studio at Silikamva High School. There is jamming, we offer singing lessons, piano lessons, drum lessons, guitar and bass lessons. And of course the music is then recorded, which of course you can also learn.
That is what the participants say:
Ricardo, one of our music teachers (piano, vocals, band and producer with 20 years of experience in the music business): "We now have 3 bands with a weekly band practice each. We have small gigs, but above all we have a platform here to develop ourselves musically. "
Paul (guitar and drums, music teacher for more than 20 years): "I look at what level they are and then it starts! My motto: Changing lives, One song at a time!!!!!!"
Zine (new music teacher at Silikamva High, singer and vocal coach): "I am so motivated and enthusiastic. We are already producing a musical with another group. My goal for this project: a musical with the young people here! And A Capella training. "
And there is the story of Khaya, one of the youngsters Ricardo directed to run the recording studio. When he's not working to make a living, he's in the studio. We would love to pay him a 20 hour job. At the moment he is still working on a voluntary basis. "I am so happy that I have the opportunity to show what I can and then pass it on to our community youth. When I go home, it doesn't stop. Ricardo gave me the opportunity to work with the youngsters from my shack. The fine-tuning  happens in the UBUNTU Music Studio."
The project of course had a long experimentation phase until it fit and the right form was found. The highest hurdle: it is an expensive project. We invested in instruments and sound technology, built a professional recording studio and, above all, made it burglar-proof. And of course, the music teachers also have to be paid.
Anyone who supports this extraordinary project naturally wants to make sure that the money is invested well and responsibly and that it really serves the young people. This is one of the reasons why we have decided not to put the organization of the music project in "foreign" hands for now, but to manage it ourselves in cooperation with the Silikamva High School. However, since we generally no longer manage our own projects, it is very likely that the organization will ultimately be placed in the hands of an NGO again or will go entirely to Silikamva High school.
Music video Joy to the world (Facebook)
Insights into our recording studio
Voices from grateful musicians
Letter from Red X
The  studio really means a lot to me
I feel like it's the only place i can be myself ,feel free and do what I do best
I really appreciate the studio
And all that it's does for us
I mean it's not every school that has a studio
And on top of that we use it for free
And that's very rare to see
I really respect and I'm thankful to the studio and Reco and the producers who comes and help along
And I really do appreciate and respect all that the studio is does for us
And I hope one day I can be able to give back and grow the studio as well
So to who ever brought the studio at school I just wanna say From the bottom of my heart thank you very much
Im just thankful to all of u guys
Hope one day I can be able to pay u back
And Reco I really appreciate what u are doing
Going an extra mile using for own equipment and not expecting anything in return
Means a lot and shows how big ur heart is
I just wish the world was filled with more people like u
And the producer Mzi you too got a big heart u kept on coming no matter how Taa ace treated and refused to give the keys shows a lot and I'm thankful
And You Mr sorry I forgot ur name
But you are in charge of making sure the studio is open and the others are there
I just wanna say thank you too
I appreciate everything you are doing for us

Thnx 💯🔥
It's Heavy charmer
From JAY B